Marketing
When marketing an indie hacker projects, I always try new things. We opted to hit the ground hard and fast with a budget of only $150. The cost for social ads and other forms of marketing have increased dramatically over the years, and we determined that virally engaging with the loud, global GoT fanbase would be our best bet. Through partnering with Game of Thrones podcasts and starting with a passionate base, we were able to grow our application for free.
We tried to exhaust all avenues of free and earned media before dipping into our limited budget. We figured ProductHunt.com, a community meeting place for makers and coders, could help us launch to an appreciative and well-connected audience. We ran a campaign in an attempt to rank among the top five products of our selected launch day, which would have won Guess The Throne a spot on their international newsletter. Despite converting over 1,200 people to signing up, we finished in eighth place.
Eventually, we decided to try our hand at influencer marketing. We quickly discovered that not many people were interested in promoting our project for free, so we moved on to paid broadcasting and had a mega-fan send out a tailored tweet to over 500k Game of Thrones fans. We had over 80 people on our site within minutes and converted over 250 people in a span of two hours. The cost per acquisition was $0.20!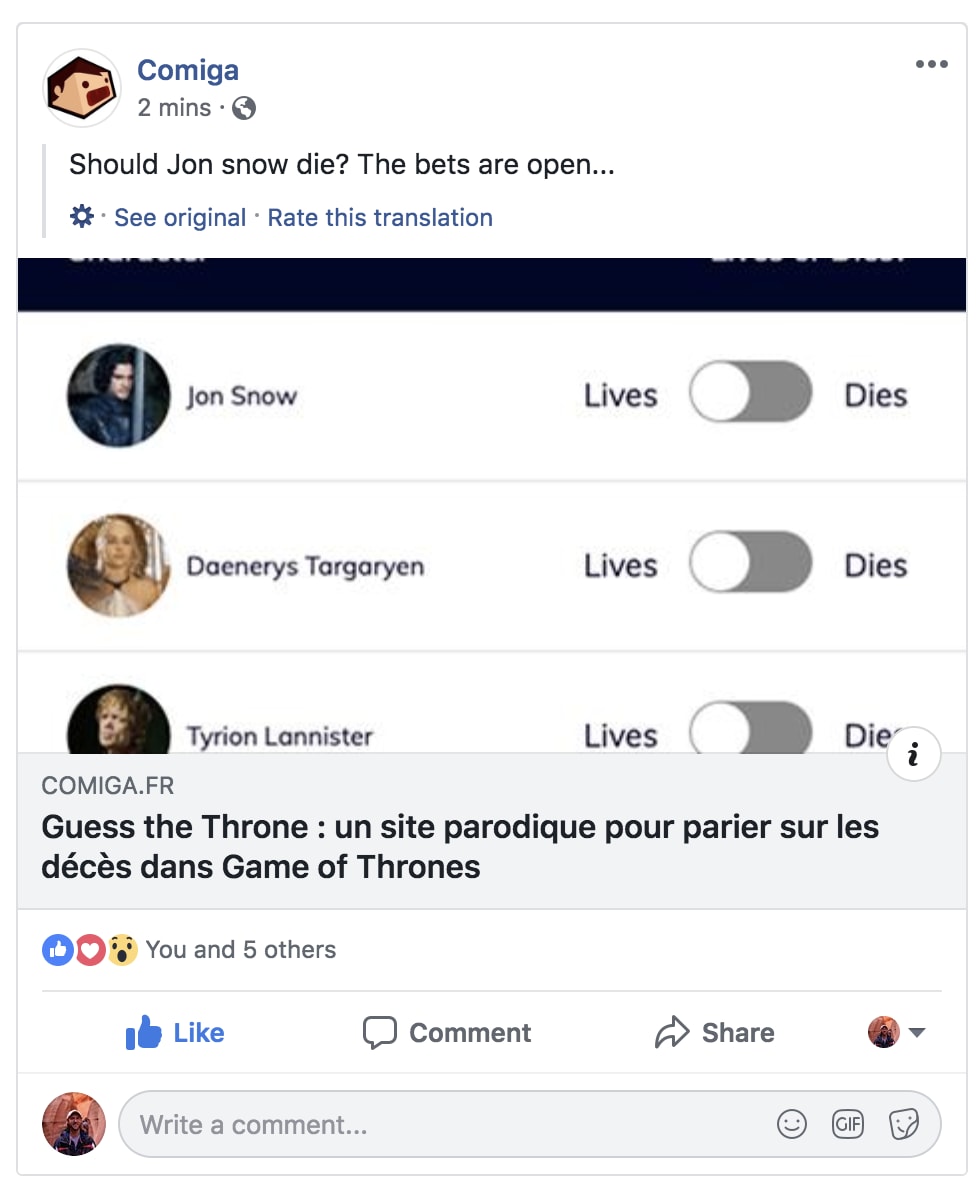 At the same time, Barstool Sports picked us up. Barstool ran a podcast breakdown of GoT throughout the season, which referenced 'Guess The Throne' every week. It took a lot of effort sliding into countless DMs, but that work paid off!
We relied on social listening tactics throughout the campaign. Queries for "death pool", "Game of Thrones", "GoT", and clever combinations of more specific keywords yielded excited fans who would go on to act as ambassadors for the site. And most importantly, they were free.
I cannot overstate the importance of interactivity and personality. You need to be everywhere someone could search for your product and be available to answer their questions promptly. However, there is a fine line between attentive and spammy, so embedding yourself into communities is crucial. All in all, we experienced massive growth in only three weeks of promotion for a grand total of $130.58.